Rural Women with Disabilities Advocating for Rights in West Africa
For French, please scroll below.
Date: March 14, 2023, 9 am Eastern Time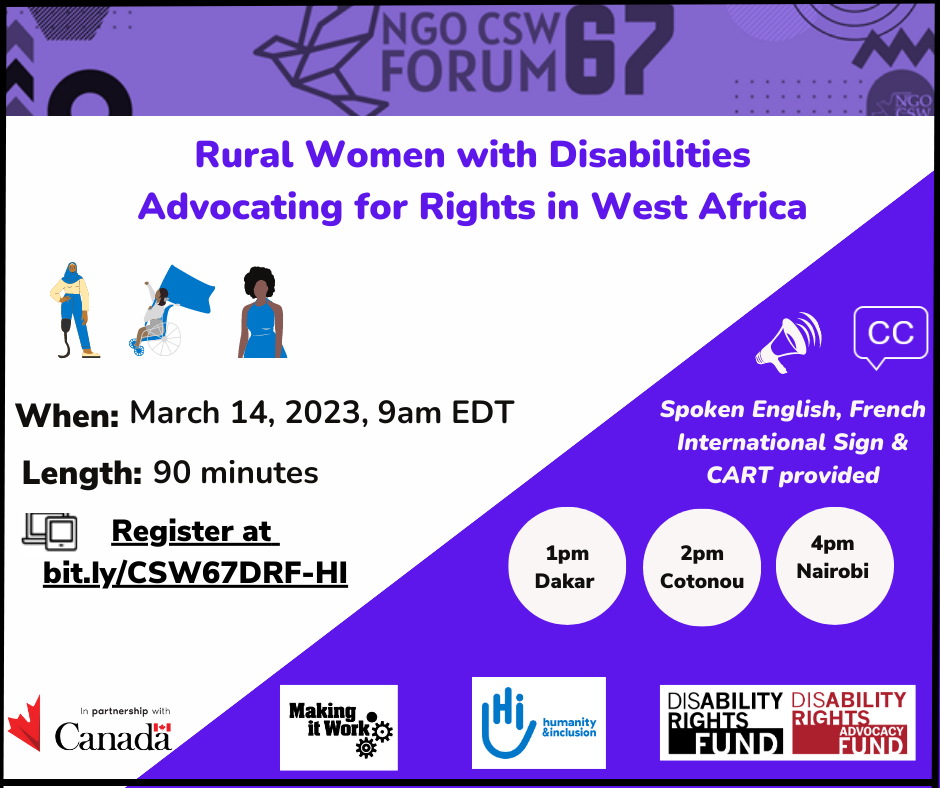 Women and girls with disabilities living in rural areas face intersectional discrimination. They experience more barriers to access education, employment and participation in decision-making. In some contexts, customary laws are not conducive to gender equality. Vulnerable to violence with less access to support and services, they have little access to justice, which reinforcing their invisibility and isolation.
Gathering women-led organizations from Senegal, Benin and Nigeria, our event will highlight practical initiatives that promote the rights of women and girls with disabilities in rural areas that are strengthening their empowerment, access to sexual and and reproductive health and rights (SRHR) and gender-based violence (GBV) prevention, and inclusive education.
Speakers
Patricia Atkinson, Director Natural Resources and Governance Division, Global Issues and Development Branch, Global Affairs Canada (GAC)
Awa Sire from Senegalese NGO 'Brigade de Conscientisation et dénonciation de Ziguinchor' in Casamance
Régina Kognon, representative of the Women Leaders of the NGO Bartimée, Benin
Ejiro Sharon Okotie, Founder, Hope Inspired Foundation for Women and Youth, Nigeria
Jandira Monteiro, Humanity and Inclusion West Africa, Technical Advisor – Inclusive Governance / Conseillère Technique Gouvernance Inclusive
Yetnebersh Nigussie Molla, Program Specialist, Children with Disabilities, UNICEF, ESARO (Moderator)
Accessibility: CART, International Sign, French and English interpretation will be provided.
Contacts:
1. DRF: Aapurv Jain ajain@disabilityrightsfund.org and Victoria Lee vlee@disabilityrightsfund.org
2. HI-MIW: Sophie Pecourt: s.pecourt@hi.org
Femmes handicapées en zone rurale: Plaidoyer pour leurs droits en Afrique de l'Ouest
Disability Rights Fund et Humanité&Inclusion (Making It Work), ainsi que d'autres partenaires, organisent conjointement un dialogue sur l'intersection des femmes rurales handicapées en Afrique de l'Ouest, l'inclusion et les droits humains. Rassemblant des organisations dirigées par des femmes du Sénégal, du Bénin et du Nigéria, notre événement mettra en lumière des initiatives pratiques qui promeuvent les droits des femmes et des filles handicapées dans les zones rurales afin de renforcer leur autonomisation, leur accès à la santé et aux droits sexuels et reproductifs (SDSR) et à la prévention des violences basées sur le genre, ainsi qu'à une éducation inclusive.