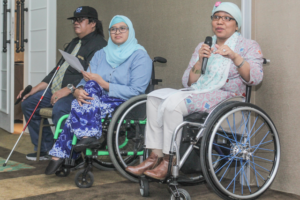 The overall aim of the Technical Assistance Strategy is to guide DRF/DRAF's investment in technical assistance towards equipping Grantees to advocate on the rights and inclusion of persons with disabilities in development efforts at local, national, and international levels.
To achieve our aim, we will focus on three key objectives:
Resource and/or facilitate tailored technical assistance to Grantees in priority focus areas in line with DRF/DRAF country strategies, overall Strategic Plan, and results framework;
Support and/or resource national umbrella organizations to coordinate and facilitate technical assistance with members of the movement they lead; and
Integrate technical assistance planning, implementation and monitoring into DRF/DRAF's systems.
DRF/DRAF will invest in the following four technical assistance focus areas:
Increasing Grantee technical knowledge on the CRPD and the SDGs;
Increasing Grantee skills for advocacy on CRPD and SDG implementation;
Increasing Grantee knowledge and skills to monitor human rights and inclusive development processes; and
Increasing Grantee knowledge and skills to form alliances within and across movements.