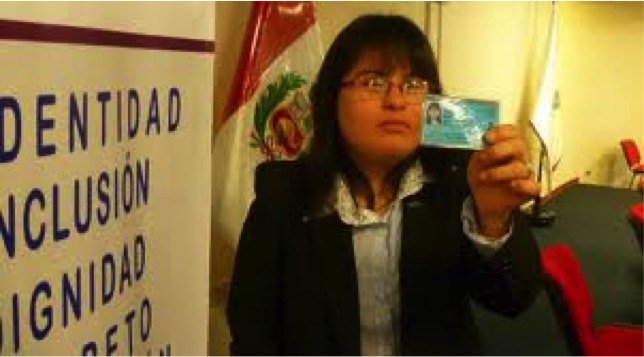 My dream is that no women with disabilities are abused, discriminated, humiliated, abused. That countries comply with respect for the rights that belong to us and that people realize that people with Down Syndrome have a voice, our own, not our mom's or dad's. We can, we know, and we want to vote for our representatives.
Maria Alejandra Villanueva Contreras
Peruvian Society for Down Syndrome
United Nations NY, September 2011
Maria Alejandra Villanueva Contreras, a young woman with Down Syndrome, was denied the right to vote in Peru's presidential election in 2011 because of her disability. With other disability advocates, and with support of the Disability Rights Fund, she pressured the National Registry of Identification and Civil Status to reissue national identity cards to over 20,000 people with intellectual and psychosocial disabilities who had been systematically erased from the voter registry. They won. The government nullified the policies that excluded these populations from electoral rolls. "I want to be a citizen like anyone else," she exclaimed, as she concluded her presentation at the United Nations.
Read More
The UN Convention on the Rights of Persons with Disabilities (CRPD)'s Article 29 (Participation in political and public life) stipulates that:
States parties shall guarantee to persons with disabilities political rights and the opportunity to enjoy them on an equal basis with others
States can guarantee this access in several ways:
Ensure that voting procedures, facilities, and materials are appropriate, accessible, and easy to understand and use
Protect the right to vote by secret ballot, without intimidation
Ensure that persons with disabilities have the support they need to exercise the right to vote
Secure the right to stand for elections, to effectively hold office, and perform all public functions at all levels of government
Facilitate the use of assistive and new technologies, as needed.