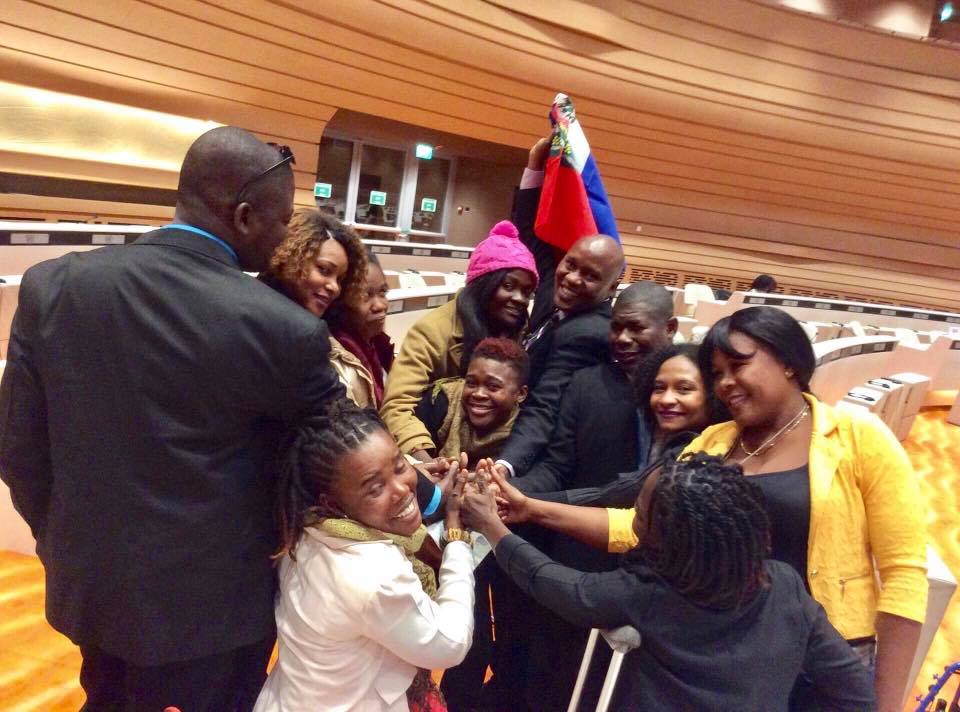 March 26, 2018 – FOR IMMEDIATE RELEASE
Contact: Diana Samarasan, Founding Executive Director
Telephone: +1-617-261-4593
Email: dsamarasan@disabilityrightsfund.org
Website: www.disabilityrightsfund.org
Twitter: @DisabRightsFund
CRPD Committee Highlights Key Rights Concerns in Haiti; Now, It's Time to Act!
Concluding Observations published by the Committee on the Convention on the Rights of Persons with Disabilities (CRPD Committee) at end February 2018 – and translated into Creole by the Disability Rights Fund (DRF) – closely echo concerns and recommendations of Haitian persons with disabilities.
Haitian Disabled Person Organization (DPO) delegates traveled to Geneva to present information from an alternative report developed by a coalition of disabled persons' organizations (DPOs) funded by DRF. During the Committee's 19th session, on February 15-16, the delegation highlighted rights challenges for persons with disabilities in Haiti, including forced sterilization, an inaccessible justice system, exclusion from the national gender equality policy, and inaccessible disaster services. These issues – and more – were taken into account in the Committee's Concluding Observations.
The Committee explicitly called on the Haitian government – which was not physically present in Geneva for the review – to "initiate a comprehensive cross-cutting review of its legislation and policies to bring them into line with the Convention and ensure that the legal framework protects persons with disabilities against discrimination on the grounds of disability" and to "effectively and meaningfully consult with persons with disabilities through their representative organizations in the development of all laws, policies and programmes that include all person with disabilities regardless of age, sex, faith, race, gender identity or sexual orientation, migrant or other status."
Now, Haitian DPOs are ensuring that the broader disability community and the public are aware of these recommendations so that the government takes action. Leaders with disabilities have held press conferences, meetings with government officials, and other actions pressing for forward movement.
The Disability Rights Fund (DRF), its sister organization, the Disability Rights Advocacy Fund (DRAF), and the International Disability Alliance (IDA), provided financial support to the national DPO umbrella, RANIPH-SUD, to bring the delegation and their support persons to Geneva, and facilitated technical assistance to them during the entire reporting process.
DRF is supported by a variety of donors, including: The Ansara Family Fund of the Boston Foundation, the Ford Foundation, The Estelle Friedman Gervis Family Foundation, the Joseph P. Kennedy Jr. Foundation, and Open Society Foundations. DRAF is supported by the Australian Government's Department of Foreign Affairs and Trade (DFAT) and U.K. aid from the U.K. government (DFID).
For more information, please visit our websites at www.disabilityrightsfund.org and www.drafund.org.