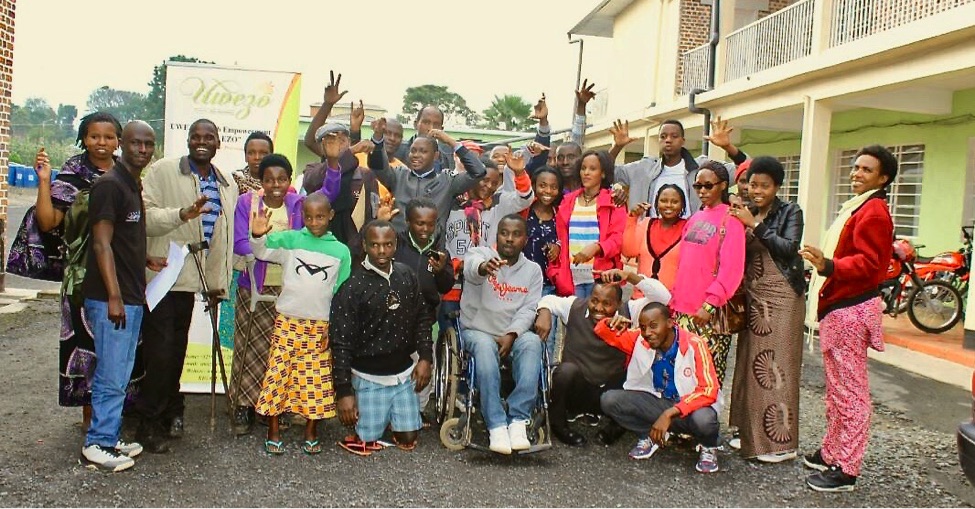 A meeting of youth with disabilities in Rwanda supported by Disability Rights Fund's work where attendees shared learning, celebrated their successes, and advocated together.
Our work at the Disability Rights Fund strengthens and diversifies disability rights movements in the Global South so that persons with disabilities can enjoy equal rights and full participation in society. Grounded in the disability rights movement rallying cry "Nothing About Us Without Us!," we take a participatory and intersectional approach to supporting organizations of persons with disabilities through resourcing, technical assistance, and advocacy. Join and uplift the global disability rights movement by making a donation today.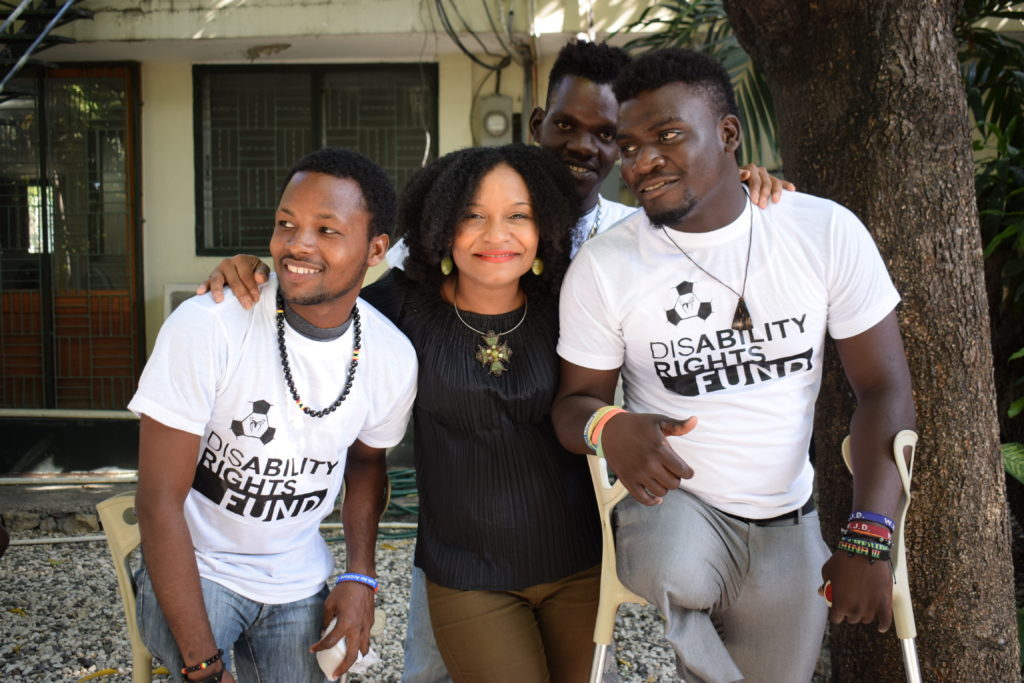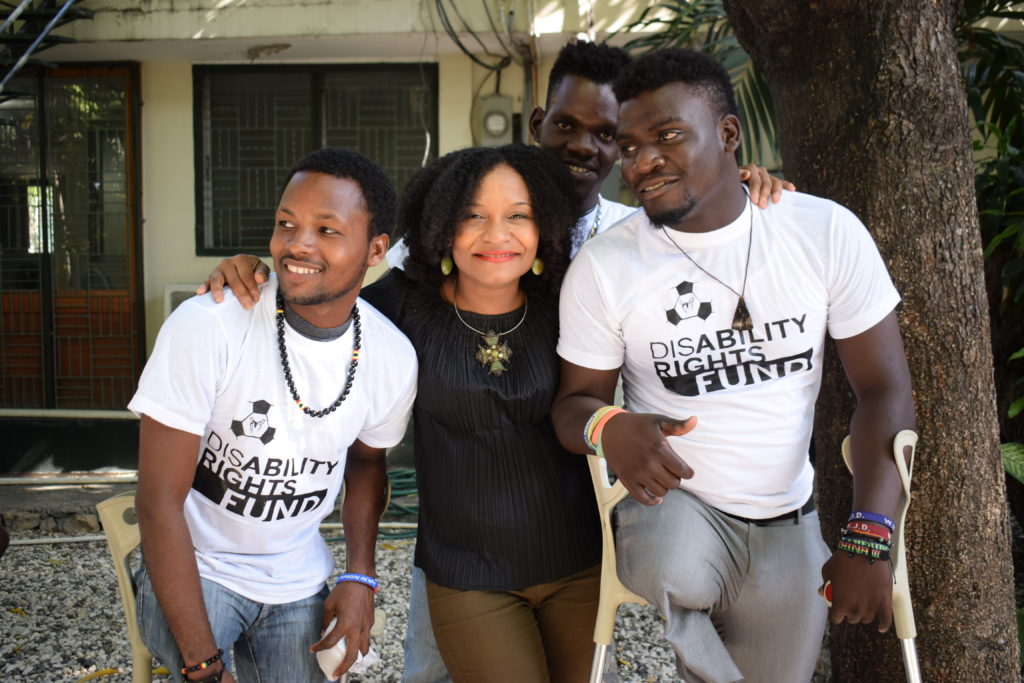 Above: Haitian grantees Club Zaryen and DRF program officer Jo-Ann Garnier; Below: Risnawati Utami and Nuning Survyatiningish from Indonesia leading the movement for change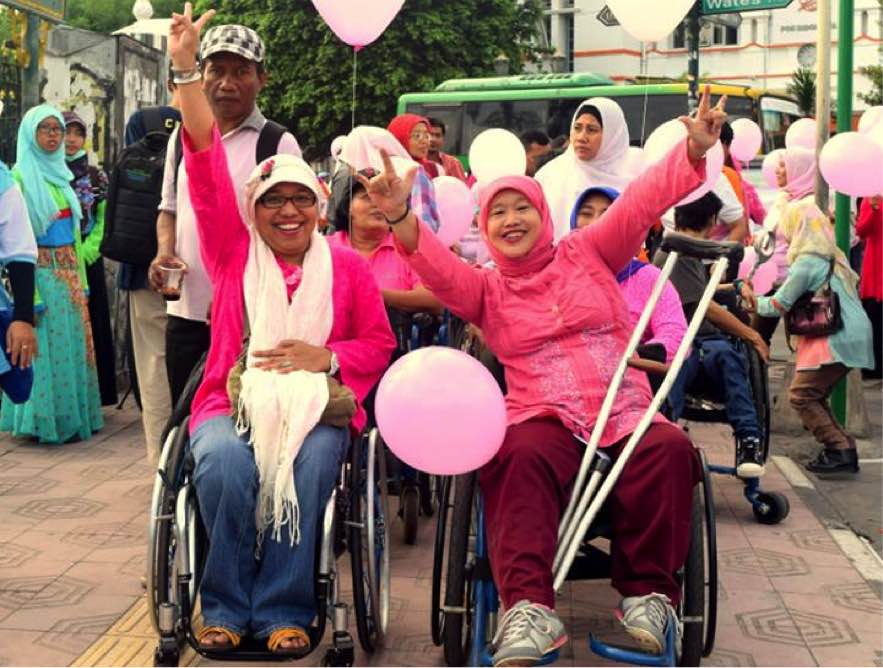 Want to donate USD instead? Head over to our main donate page.
Why Give?
Around the world, persons with disabilities are routinely excluded from full participation in society. Ableist barriers infringe on the rights of persons with disabilities to access and be fully included in education, work, health care, civic life, funding, and beyond. Further, decisions are often made that affect the lives of persons with disabilities where they do not have a seat at the decision-making table. For the 1 in 7 people worldwide who are disabled–and those who will become disabled during their lifetime–this must change.
By investing in the Disability Rights Fund, you are supporting persons with disabilities around the world to advocate for their rights and to grow their leadership. When we secure rights and freedoms for the most marginalized identities, we create a better world for us all.
To learn more about our work, read our most recent annual report. You can also reach out to Jen Bokoff, Director of Development, at jbokoff@disabilityrightsfund.org with any questions or to get added to our donor communications.
Donation Details
Donating cryptocurrency is a non-taxable event. Donors do not owe capital gains tax on the appreciated crypto that is donated and can typically deduct the fair market value of the donation on their taxes. This often makes Bitcoin, Ethereum, and other cryptocurrency donations one of the most tax efficient ways to support your favorite cause. Talk to a crypto-savvy tax professional or connect with The Giving Block to get connected with one. If you want to learn more about how donating crypto can lower your taxes, check out thegivingblock.com/faq.
You can donate the following cryptocurrencies through this widget: Bitcoin (BTC) Ethereum (ETH) USD Coin (USDC) Dai (DAI) Dogecoin (DOGE) Basic Attention Token (BAT) Ethereum Name Service (ENS) 0x (ZRX) 1inch (1INCH) Aave (AAVE) Alchemix (ALCX) Amp (AMP) Ankr Network (ANKR) ApeCOIN (APE) API3 (API3) Audius (AUDIO) Axie Infinity Shards (AXS) Balancer (BAL) Bancor Network Token (BNT) BarnBridge (BOND) Bitcoin Cash (BCH) ChainLink (LINK) Civic (CVC) Compound (COMP) Curve (CRV) Decentraland (MANA) DeFI Pulse Index (DPI) Dogelon Mars (ELON) Enjin Coin (ENJ) Fantom (FTM) Fetch AI (FET) Filecoin (FIL) Gala (GALA) Gemini Dollar (GUSD) Injective Protocol (INJ) Keep3r (KP3R) Kyber Network (KNC) Lido (LDO) Liquity USD (LUSD) Liquity(LQTY) Litecoin (LTC) Livepeer (LPT) Loopring (LRC) Magic Internet Money (MIM) Maker (MKR) Maple Finance (MPL) Mask Network (MASK) Merit Circle (MC) Mirror Protocol (MIR) Moss Carbon Credit (MCO2) Numeraire (NMR) Orchid (OXT) PAX Gold (PAXG) Polygon (MATIC) Quant (QNT) Radicle (RAD) Rally (RLY) Raydium (RAY) Ren (REN) Render Token (RNDR) Saber (SBR) Shiba Inu (SHIB) Skale (SKL) Smooth Love Potion (SLP) Solana (SOL) Somnium Space (CUBE) Spell Token (SPELL) Storj (STORJ) SushiSwap (SUSHI) Synthetix (SNX) Terra (LUNA) TerraUSD (UST) Tezos (XTZ) The Graph (GRT) The Sandbox (SAND) UMA (UMA) Uniswap (UNI) Wrapped Centrifuge (wCFG) Yearn.Finance (YFI) Zcash (ZEC)
Cryptocurrency donations are processed by The Giving Block, and the net proceeds are promptly sold and transferred to us at the Disability Rights Fund in U.S. dollars. We do not maintain a reserve of cryptocurrency, therefore all crypto donations to the Disability Rights Fund are final; we do not offer refunds. No goods, services or airdrops will be offered in exchange for cryptocurrency donations.
Please only send the exact cryptocurrency listed on the blockchain mentioned on the widget below. Do not send any other cryptocurrencies (including layer 2, wrapped tokens, NFTs, or other ERC-20 tokens not listed) as these are unsupported and may result in loss of donation. For more info, click here.