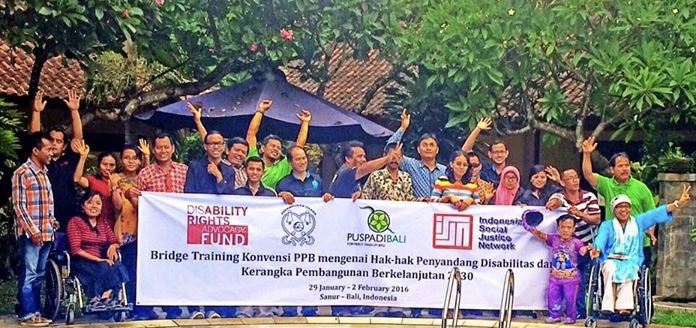 We wanted to make sure any new legislation was in line with both the CRPD principles and the Sustainable Development Goals (SDGs). We especially wanted to focus on Reducing Inequality, SDG Goal 10.

Risnawati Utami
Risnawati Utami contracted polio when she was four years old. Although there were many moments when she was discouraged, she was determined not to let any barriers stop her from reaching her goals. She sought, instead, to promote equality. In her own words, "Being differently abled gives me a strong sense of social justice and a commitment to valuing diversity."
Early on in her career, she recognized the need to fight for her fellow Indonesians with disabilities, many of whom are left behind because services and facilities are inaccessible or unavailable and discrimination is common. Risna, from Yogyakarta in Java, Indonesia, now leads the group OHANA, which works to strengthen the rights of people with disabilities so they can access justice and education.
Local laws are especially important in a country as large and diverse as Indonesia. Since Indonesia's young democracy and decentralized governance system has allowed more participation by civil society groups, disabled persons organizations have been able to advocate for legal reforms at the local level.
Yogyakarta, located close to a major active volcano, has its own specific priorities, including disaster risk reduction. Indonesia's ratification of the CRPD in 2011 encouraged local-level disabled persons organizations like OHANA to bring together multi-stakeholders to create disability inclusive laws for the province. Working at the local level made the impact more relevant and timely, not only for the residents, but also for local government agencies.
Grassroots voices from villages and rural areas must be integrated into local level disaster risk reduction and climate change adaptation and resiliency efforts.

Risna Utami, OHANA
In part thanks to the efforts of OHANA and the local disability movement, Yogyakarta now has one of the strongest local laws for disability inclusion in the country. The CRPD was adopted into local law, or "perda," and incorporated the local context. The implementation, though, still remains a challenge because of lack of government commitment, lack of awareness of disability rights, and poor enforcement of the law.
Learning from their experience in Yogyakarta, OHANA took these lessons to another province: Bali. In the Hindu religion, some people believe disability is a curse, or a karmic result of wrong-doing. The stigma leads to feelings of shame and many persons with disabilities are shut indoors with no right to inclusion in the community that most of us take for granted.
A coaltion consisting of OHANA, PUSPADI Bali, and the Indonesia Social Justice Network met with religious and traditional leaders to change their minds about how they saw and treated persons with disabilities. At the same time, they advocated for a new law that would protect the rights of persons with disabilities.
Balinese temples and the festivals and rituals around the religious ceremonies are one of the most important aspects of family and community life. The new local law reflected this aspect by promoting the freedom of religion for persons with disabilities to exercise their rights to participate in the religious celebration, which means accessibility to the temples. With this law, we can now be included, and not shamed, in our own community's customs.

Gede Widiasa, PUSPADI Bali
In October 2015, the coalition celebrated their first big win with the passage of the local legislation Peraturan Daerah number 9/2015 on the Protection and Fulfillment of the Rights of Persons with Disabilities in Bali Province. Their next step is to ensure that the legislation is translated into planning, budgeting, and implementation. Their hope is that ultimately, Balinese people with disabilities can come out of their houses and be included in their community, including its religious festivities.