The Disability Rights Fund is making a difference in the lives of persons with disabilities by:
Increasing participation of persons with disabilities to advocate for the ratification of the Convention on the Rights of Persons with Disabilities
Supporting systems change by pushing for national and local legislation and policies for persons with disabilities
Raising the voice and visibility of persons with disabilities at the global, national, and local levels to strengthen movements
Since 2008, we've made $46 million plus in grants in 40 countries to 437 organizations working on rights campaigns.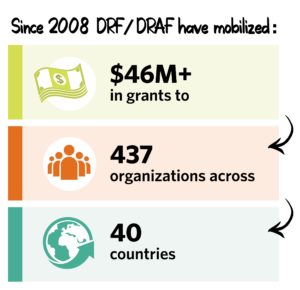 What we are learning
A learning evaluation (2015) showed that the Fund has contributed significantly to the harmonization of national and local legislation with the Convention on the Rights of Persons with Disabilities. The Fund enabled the active participation of grantees and other disabled persons organization in the legislative advocacy process.
At the global level, DRF's objectives of advancing the rights of persons with disabilities, of including persons with disabilities in decision-making, and of improving data collection systems on disability are particularly relevant to the new development framework that is being shaped, which emphasizes 'leaving no one behind'; of promoting disability-inclusive aid development; and of strengthening national data collection systems on disability.