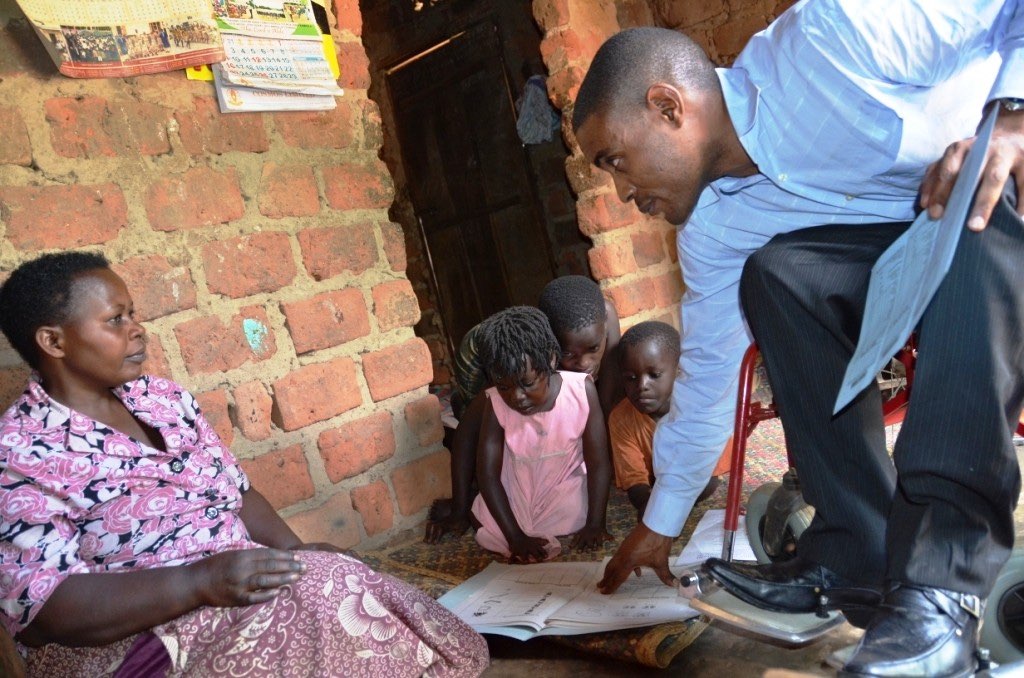 I will not rest until I see the lives of the most disadvantaged people change.

Henry Nyombi
Henry Nyombi's childhood was dramatically altered by a car accident, which left him paralyzed from the waist down. His paralysis changed his once popular status on campus, he said, "Because of cultural beliefs, I lost all of my friends … people truly believed that I was punished by the gods and did not want my misfortune to befall them." He was unable to return to school, which refused to make accommodations for him.
Rather than lose hope, he was determined to become a champion for children with disabilities. In 2002, he founded the Youth with Physical Disabilities Development Forum (YPDDF) to advance inclusive education as a human right using the Convention on the Rights of Persons with Disabilities (CRPD).
At the district level, YPDDF has successfully pushed for the passage of an Accessibility Ordinance with strong provisions for inclusive education. Partnering with 25 schools across the districts, YPDDF has boosted enrollment of children with disabilities by 73 percent. These schools are now serving as a model for Uganda.
Due to their efforts, the National Curriculum Development Centre is developing an inclusive curriculum for children with disabilities in mainstream schools.
Their awareness raising and advocacy have shifted teacher and parental attitudes and created barrier-free environments.
Inclusive education requires schools to equally and appropriately provide for the learning needs of a diversity of students in the classroom. This approach differs from segregated education models that teach children with disabilities in separate, often isolated, facilities, if at all.
According to surveys conducted by Uganda's Ministry of Education and Sports between 2009-2011, only nine percent of Uganda's estimated 2.5 million children with disabilities attend primary school, and only six percent complete their primary school education.
Only a small proportion of teachers have been trained in methods for engaging all learners. Most schools lack teaching materials and other resources to support the learning needs of children with disabilities, such as Braille paper or assistive devices. Access barriers are considerable, including a lack of safe and accessible transport, negative parental and community attitudes, inaccessible classroom and hygiene facilities, and stigma experienced in school.
These factors all contribute to low enrollment and high drop out rates of children with disabilities, especially girls.
Since 2008, Disability Rights Fund grants have supported YPDDF to influence policies and practices to boost school enrollment for children with disabilities, and to ensure that, once enrolled, they are participating, learning, and staying in school. Henry Nyombi, the Executive Director of the YPDDF, is now the youngest-ever Chairperson of the National Union of Disabled Persons of Uganda (NUDIPU).
YPDDF's efforts have opened doors to students with disabilities in rural primary schools, secondary schools, and urban universities. They've also contributed to the drafting of a new national Inclusive Education policy and curriculum.