Hurricanes, tsunamis, landslides, cyclones, extreme weather, and floods show us that climate change's threat is real.  In 2017 alone, climate disasters have struck worldwide from South Asia's flooding to hurricanes decimating regions in North America and the Caribbean islands. The earthquake in Mexico and the impending volcano eruption in Bali, Indonesia add to the list of natural disasters this year.
Disasters have a huge impact on human infrastructure, lives and livelihoods. They can lead to food shortage, diseases, lack of water, and increase the level of poverty.
Article 11 of the UN Convention on the Rights of Persons with Disabilities in which State Parties must "ensure the protection and safety of persons with disabilities in situations of risk, including situations of armed conflict, humanitarian emergencies and the occurrence of natural disasters."
In 2015, the Sendai Framework for Disaster Risk Reduction 2015-2030 was approved by the UN General Assembly and emphasized that "persons with disabilities and their organizations are critical in the assessment of disaster risk and in designing and implementing plans."
For more resources on Disaster Risk Reduction and Climate Change, visit DRF's Resource page.
Disability Rights Fund (DRF) provides funding to Disabled Persons Organizations (DPOs) working on climate change and disaster risk reduction.  Learn more about these projects by clicking here.
From funders to activists, read the different perspectives on disaster risk reduction: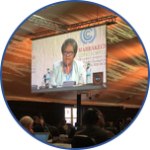 A Call to Action for Climate Change by Ipul Powaseu, Chairperson of the Papua New Guinea Assembly of Disabled Persons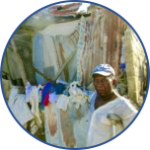 Rights of Persons with Disabilities in Times of Disaster by Emilio Neas, Coordinator of Haiti's Coalition du Réseau Associatif National pour l'Intégration des Personnes Handicapées, RANIPH SUD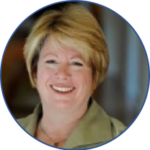 Applying Human Rights Principles to Disaster Response by Karen Keating Ansara, co-founder of the Ansara Family Fund and the Haiti Fund at the Boston Foundation, and Brian Concannon, the co-founder and Executive Director of the Institute for Justice & Democracy in Haiti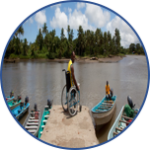 Inclusive Approaches to Climate Change Adaptation Policies and Programs Change by the Disability Rights Fund and the Disability Rights Advocacy Fund, Pacific Development Forum, and the GEF Small Grants Programme