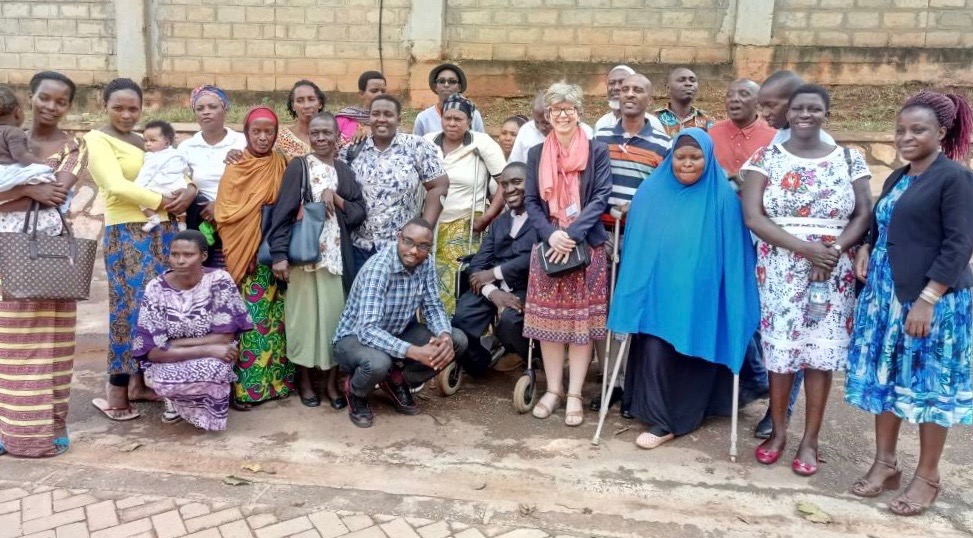 Before NUWODU started working with us, the government used to take decisions on our behalf as if we were babies. With NUWODU and DRF's support, we are very hopeful that our voices will be heard by government and service providers. Natalie (refugee from Rwanda)
Refugees with disabilities are some of the most marginalized people in the world. In addition to the unique challenges they face because of their disabilities, they endure all other difficulties faced by all refugees. Navigating daily life requires all the more courage and resilience, especially given that they are a largely forgotten group for governments and humanitarian organizations.
On February 19, 2018, Penny Innes, the Head of DFID's Disability Inclusion Team, heard first-hand the stories of refugee women with disabilities in Uganda. The listening session was set up by DRF's Program Officer Medi Ssengooba and the National Union of Women with Disabilities of Uganda (NUWODU).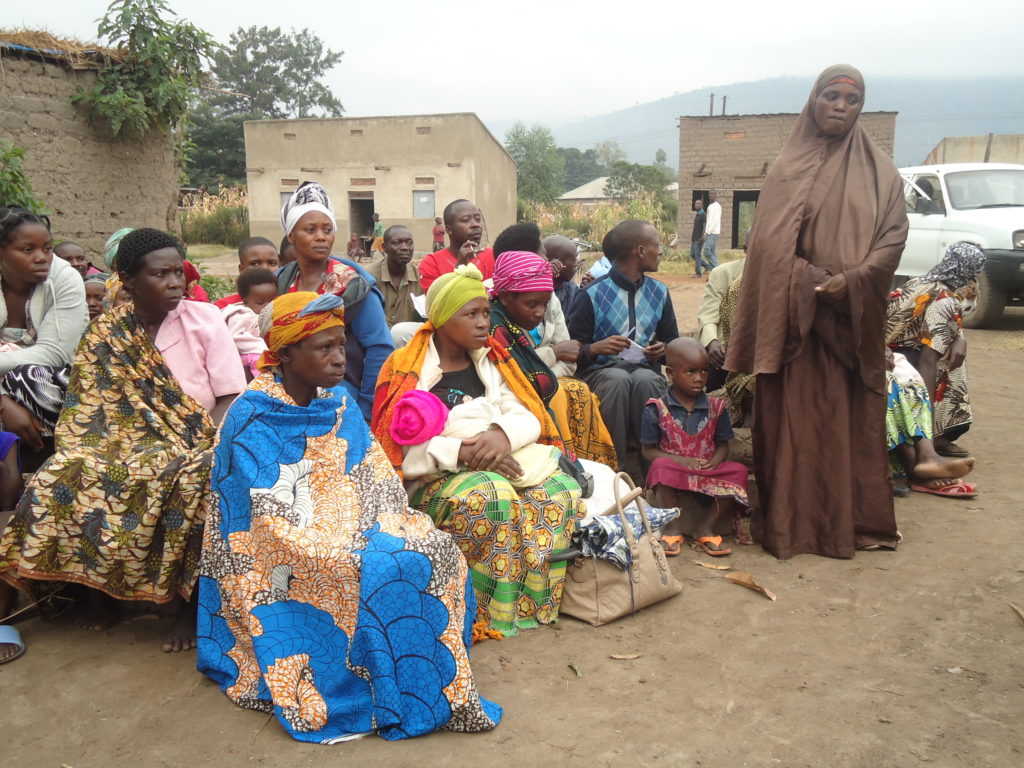 Refugees in Uganda live in urban slums and in settlement camps. They have fled fighting in neighboring countries, such as Sudan, Somalia, Burundi, Rwanda, and the Congo. In Kampala, refugee women with disabilities live on the edge of survival and are at high risk of sexual violence. They face challenges in accessing services made available to other refugees because of inaccessible environments and discriminatory attitudes from the community and camp management.
Those who are in camps in western Uganda depend on humanitarian agencies to provide them with shelter, food, and water. They must overcome a variety of obstacles, including lack of identification cards and language barriers, to find employment and access basic necessities. They wait for those in power to resolve the political conflicts that have created human rights abuses and humanitarian crises, and they feel forgotten by global leaders.
According to NUWODU's Executive Director Jolly Acen, there are many refugees with disabilities who are left behind in the camps, including people with physical disabilities, people with hearing and visual impairments, people with albinism, and people with psychosocial disabilities. Very little data exists regarding their lives and the challenges they must overcome to survive. There is no data on numbers of women and children with disabilities, who are the most marginalized among this population.
This is where NUWODU has stepped in.
NUWODU manages a DRF-funded National Coalition with the National Union of Disabled Persons of Uganda (NUDIPU) and the Pan-African Development Education and Advocacy Program (PADEAP). The coalition advocates for the inclusion of women with disabilities in all refugee programs in Uganda. To challenge rights violations, they are using the UN Convention on the Rights of Persons with Disabilities (CRPD) and the Convention on the Elimination of Discrimination Against Women (CEDAW).
The coalition builds on DRF's support (since 2014) of NUWODU's work on gender equality, especially on their work addressing the physical and emotional consequences of gender-based violence against women with disabilities.
In the meeting, Penny Innes heard testimonies from refugee women with disabilities:
Faustina (DRC): "Because of NUWODU's support, we have been able to get new partners, like the Refugee Law Project, Office of the Prime Minister, UNHCR. We now have a desk for refugees with disabilities, an executive committee. Our Kampala membership has increased from 200 to 400 refugees with disabilities."

Aziz (Sudan) : "I have learned about my rights and to advocate strongly. Initially, I thought that the only rights we had as refugees was to apply for papers to stay in Uganda and nothing else."

Halima (DRC Congo): "The baseline by NUWODU [funded by DRF] was a key that opened our hearts to local actors to authorities in Uganda. It provided useful evidence that made our case clearer."
Jolly Acen reports that as a result of NUWODU's work, humanitarian agencies and the Ugandan government have begun to take note of refugee persons with disabilities as a "vulnerable category" whose rights must be upheld. International organizations, such as Light for the World and Humanity and Inclusion, are also taking interest in disability issues among refugees.
Jolly says, "Due to our advocacy work, the Persons with Special Needs coordination meeting was introduced. This is a mechanism where the Office of the Prime Minister and humanitarian partners report on the work they are doing towards the inclusion of persons with disabilities and older persons. It is organized by the UNHCR Uganda office on a quarterly basis. NUWODU offers technical guidance on how to work with refugees with disabilities."
Ultimately, NUWODU hopes to use data to help bridge the gap in services for women refugees with disabilities and to advocate for concrete protections against neglect and abuse. But most of all, they hope that their work will inspire refugees with disabilities in Uganda to continue to organize and actively advocate for their own rights.
Perhaps the inspiration comes from women like Esperance (from DRC) who said, "Before NUWODU, we were like lost women moving aimlessly. Now we know we can leave positive and happy lives. Even though we lack appliances, our hearts are very strong." And from Habia (from Burundi) who said to Penny Innes, "We have spent a long time without hope, but when I am with you, I am very happy."
Interview and story by Sofia Jamall and Yumi Sera