"The Convention on the Rights of Persons with Disabilities requires the transformation of existing social structures, systems, and conceptions that perpetuate discrimination against persons with disabilities. The 2030 Agenda for Sustainable Development presents a unique opportunity for concerted efforts to reduce inequality for persons with disabilities and ensure their inclusion and participation." UN Human Rights Office of the High Commissioner
In the rural areas of many developing countries, persons with disabilities are often isolated and face unbearable stigma and discrimination. Schools and health facilities are hard to reach for children and other persons with disabilities because of the long distances they must travel on rural roads, the inaccessibility of buildings or communication, or the lack professionals trained to meet the needs of the disability community.
Disability Rights Fund provides resources to organizations that are improving access to education, employment, and social protection for persons with disabilities, with an emphasis on rural areas in many parts of the world.
From 2008 to 2016, 25% of grants awarded from the Disability Rights Fund and the Disability Rights Advocacy Fund has been allocated to rural areas.
Uganda was among the first countries to ratify the CRPD in 2008 and has a strong disability movement. Yet, the discrimination faced by persons with disabilities in the rural areas still makes it difficult for them to achieve economic empowerment and escape poverty.
DRF's long-term support of the Integrated Disabled Women's Activities (IDIWA) has led to successful advocacy in the Iganga District, a rural area which depends on subsistence agriculture and has a high level of poverty among women and youth with disabilities. Elizabeth Kayanga, Executive Director of the Integrated Disabled Women's Activities (IDIWA), described the situation:
Employers are reluctant to employ persons with disabilities or pay them equally as those without disabilities, even if they have the qualifications. In the informal sector, banks equate disability with inability to perform and persons with disabilities are not able to access credit or even be given the opportunity to join village savings' groups. Women with disabilities are not allowed to own land and thus, do not have a means to earn income from farming. Women with disabilities are also denied their fundamental right to sexual and reproductive health, a central component of development.
Despite these challenges, with DRF funding since 2011, IDIWA championed a district ordinance that ends discrimination and promotes equal rights to persons with disabilities in the Iganga District. Nearly 62,000 persons with disabilities in Iganga could benefit from this ordinance.
According to Med Ssengooba, Program Officer for the Disability Rights Fund:
IDIWA's success is partially attributable to how IDIWA works strategically. First, they conduct field research, then they translate this to a monitoring plan which focuses on baseline, results, and gaps; and then they apply these learnings to advocating for government policies and programs. With this ordinance, they can then push for money for implementation.
IDIWA continues to expand on their successes. Their work on sexual and reproductive health rights for women with disabilities gained them a permanent seat on the district health planning council. With the Iganga District Action on Physical Disability (IDAPD) and the Civil Society Budget Advocacy Group, they are now leading a Mid-level Coalition to push for increased budget and social accountability for disability inclusion in education and health programs in two rural districts.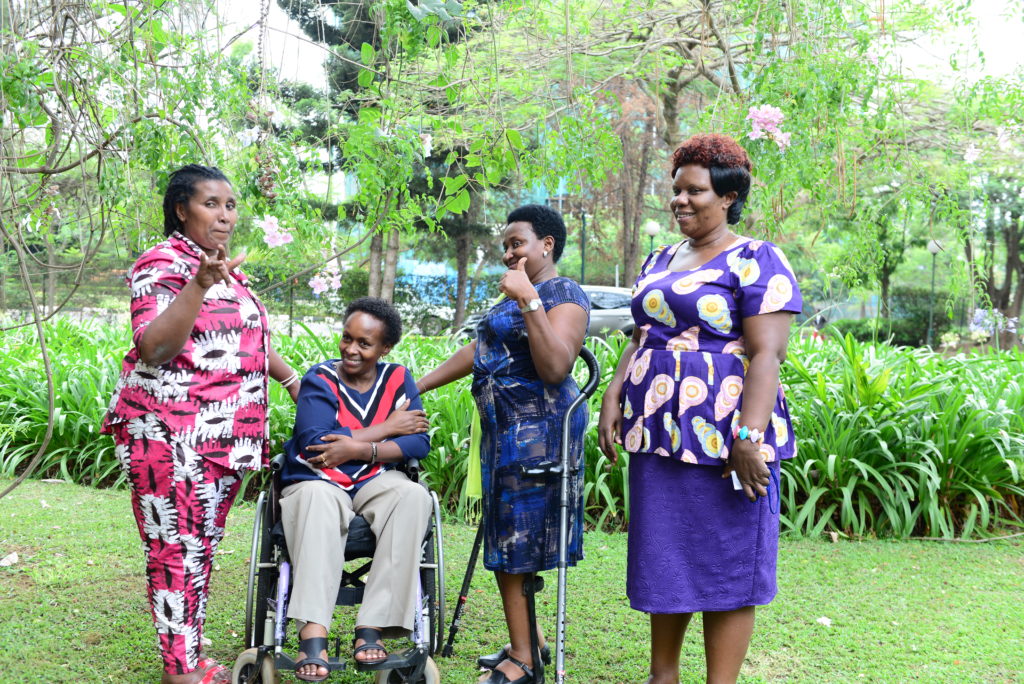 With 700 members, IDIWA now has credibility and capacity to do more. Planning for their sustainability includes attracting new donors and building a mango juice processing plant, a social venture which could employ persons with disabilities and provide a sustainable revenue stream for the organization. The members have come to realize that the more organized they are and the more people they can mobilize, the stronger their voices will be when standing up for their rights.
– Local Governments (Iganga District) Persons with Disabilities Ordinance, 2013
– "Iganga district pioneers ordinance for PWDs," Eagle Online News, March 29, 2017