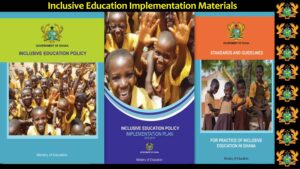 Following ratification of the Convention on the Rights of Persons with Disabilities at national levels, it is critical for disability movements to stay the course and ensure that rights are implemented. DRF-funded National Coalitions, often led by an umbrella organization of people with disabilities, can join voices to effectively demand government accountability and drive progress in participation, including for very marginalized sectors of the disability community.
All too often, persons with intellectual disabilities are left behind – hidden, abused, or excluded from the rest of their communities. They are unable to access adequate health services and education due to the stigma and discrimination they face.
---
Read how persons with intellectual disabilities demand dignity
---
With Disability Rights Fund's support, Inclusion Ghana led a National Coalition to advocate for the inclusion of children with intellectual disabilities in Ghana's first Inclusive Education Policy, which was adopted and signed by the Minister of Education in November 2015 and formally launched in May 2016.
The Inclusive Education Policy defines the strategic path of the government for the education of all children with special educational needs. This policy builds upon sections in the 1992 Constitution, the National Development Agenda, the Education Strategic Plan and International Commitments to achieve national as well as international goals for creating an environment for addressing the diverse educational needs of Ghanaians.
Inclusion Ghana built a self-advocacy movement of persons with intellectual disabilities and mobilized 150 parents' groups in different regions of Ghana. For the first time, persons with intellectual disabilities had a voice in decision-making that affected them.
"Many children with intellectual disabilities have been turned away, laughed at, and met with suspicion and fear. Others who have been enrolled in school are not receiving adequate support to ensure that education is meaningful."

Parent of child with intellectual disability, Inclusion Ghana Parent Group
Surveyors fanned out across Ghana to collect quantitative and qualitative data that tell the stories of children with intellectual disabilities. An innovative scorecard assessed enrollment numbers and school practices nation-wide. Stories from parents told of the barriers and discrimination they faced when enrolling their children in mainstream schools.
As in many other countries, many school age children with disabilities in Ghana remain out of school. The new policy targets and supports children who experience barriers that prevent them from achieving optimal progress in their learning and development. It has a rights-based framework that states: Every child has the right to quality education; thus all children should have equal opportunity to access education.
Recognizing that large-scale system change takes time and relentless advocacy, Inclusion Ghana formed a DRF-funded National Coalition to ensure that the policy was adopted and budgetary allocations are in place for implementation.
The National Coalition led by Inclusion Ghana included: Services and Advocacy for Persons with Intellectual Disabilities, Autism Awareness Care and Training, Kekeli Foundation, and Mission of Hope for Society Foundation.
For the last few years, the advocacy and mobilization of these organizations have created a strong foundation to ensure that persons with intellectual disabilities are not left behind in schools countrywide. The policy goes beyond education to societal change, as stated in one of the principles: Regular schools with an inclusive orientation are the most effective means of combatting discrimination, building an inclusive society, and achieving education for all. They have also advocated for allocation of budgets by the government to support the implementation of the Inclusive Education Policy.