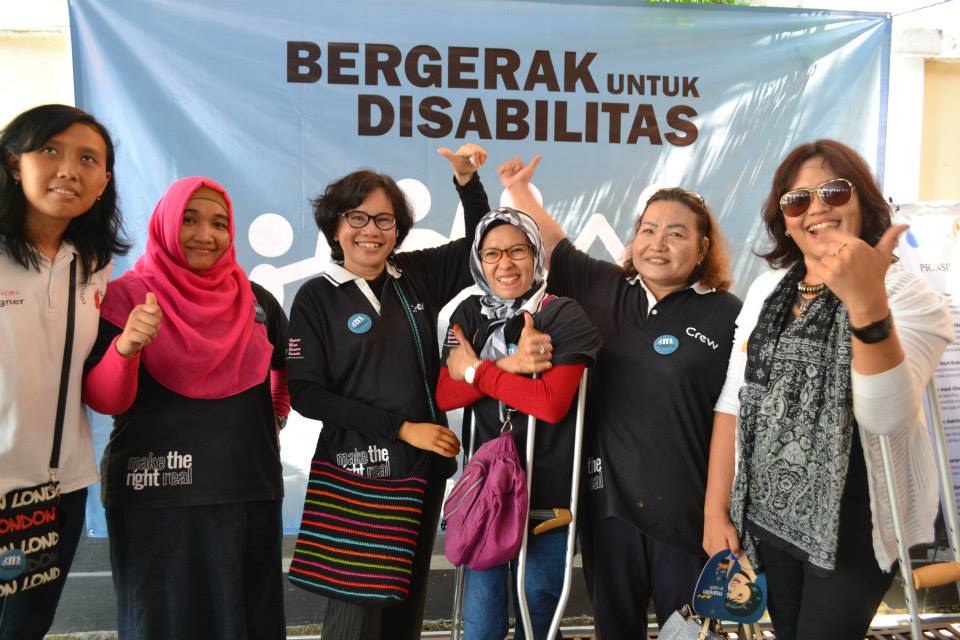 The campaign for the Indonesian disability movement urges society to raise their voices for the rights of people with disabilities. Their slogan "Bergerak until Disabilitas" unites all people to join together and "move" for the cause of disability rights.
Thanks to the consistent funding for the last five years from the Disability Rights Fund, the movement has grown and we've had some considerable wins. The support raised our dignity – especially in front of the government. Now they consider us as professionals and equals, and treat us as partners of the Ministry of Social Affairs.

Maulani Rotinsulu, Chair, Indonesian Association of Women with Disabilities
In the four years following Indonesia's ratification of the Convention on the Rights of Persons with Disabilities (CRPD), the disability movement is celebrating a new win. On March 17, 2016, the Persons with Disabilities Act passed. The new bill adopts a human rights approach and complies with the CRPD.
The team behind this major legislative reform includes: Center for Election Access for Citizens with Disabilities (PPUA Penca), the Center for Indonesian Law and Policy Studies (PSHK), the Indonesian Association of Women with Disabilities (HWPCI) and the Association for Mental Health. With support from the Disability Rights Advocacy Fund (DRF's sister fund), this coalition, led mainly by women with disabilities, drafted the legislation and drove advocacy for its passage over the past two years.
This is a significant political and social milestone for the 36 million people with disabilities, who account for 15 percent of the 240 million total population according to World Health Organization.
What is remarkable and inspiring is that more and more women with disabilities are taking leadership roles in what has been a traditionally patriarchal society. Serving as role models, they are fighting at the local and national level for equal access to health care, education, employment, and political rights.
One of the leaders of the movement is Maulani Rotinsulu, who has been deeply involved from the lead-up to her country's ratification of the CRPD in 2011. She is committed because as a woman with disability, she knows first-hand what discrimination meant. Men have traditionally dominated the disability movement. Even the women's movement in Indonesia had been reluctant to include women with disabilities. They have often been excluded and marginalized in their fight for their rights.
In the past five years, though, attitudes have changed and the hard work and leadership of women with disabilities has taken the movement to new heights. Even the leadership of the major organizations of persons with disabilities has shifted to include more women than men.
The disability movement will continue to move forward, according to their campaign, "Bererak untuk Disabilitas." Their next target is to ensure that Indonesia's adoption of the Sustainable Development Goals will be disability-inclusive and gender-sensitive for women with disabilities.
Lessons Learned
Maulani, who has been at the forefront of creating a more unified and inclusive movement, believes that to achieve better conditions for persons with disabilities, society needs to work together towards common goals. She offered ten good practices for advocacy to strengthen an inclusive disability rights movement:
Empower persons with disabilities by inviting them to join the movement
Mobilize all members of society to participate in rallies as a sign of solidarity
Strengthen coalitions by learning about the CRPD and building capacity for action
Ensure that voices from the most marginalized groups, such as persons with psychosocial disabilities, Deaf People, persons with intellectual disabilities or multiple disabilities, are heard
Strategize on messages and tactics that speak to different audiences – the public, politicians, government bureaucrats, and media
Form allies across movements, including with the women's and labor movements and other human rights groups, to find common ground and pursue common goals
Reach out to the media to share stories about persons with disabilities
Be inclusive of women with disabilities who can become new leaders of the movement
Advocate to government for the passage of disability inclusive legislation
Make an impact by working with legal and policy experts to draft laws and policies that reject the charity model and embrace a rights based framework
---