Around the world, 1 in 6 people are living with a disability, representing 16% of the world's population. 
1 in 5 women globally live with a disability, experiencing multiple and exacerbated levels of violence and exclusion. But only 2 percent of global human rights and international development funding goes to people with disabilities.
The Disability Rights Fund makes more grants to organizations of persons with disabilities than any other donor.
We resource the disability movement across six regions of the world to advocate for equal rights and full participation in society.
We support disability-inclusive development that will leave no one behind.
We do this by:
We believe that a strong movement — extending from local to national to global levels — is the cornerstone for rights to be recognized and achieved.
We support persons with disabilities themselves to advocate for commitments that leave no one behind.
We enhance the capacity of the disability movement to advance rights and inclusion of persons with disabilities.
Pathway to Change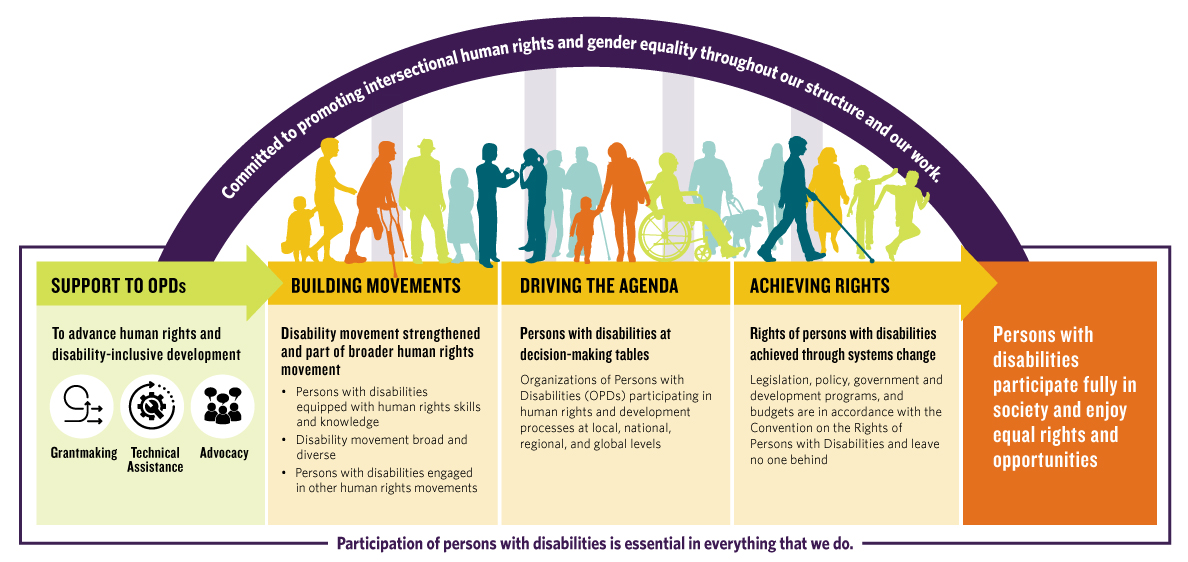 A decade after the adoption of the CRPD and with the new Sustainable Development Goals, we are seizing the opportunity to ensure that persons with disabilities are at decision-making tables. Our pathway to change puts together how we are resourcing, strengthening, and connecting DPOs to contribute to development and achievement of rights.
Since 2008, The Disability Rights Fund has resourced the disability movement in 38 countries around the world. The Disability Rights Fund grants are searchable on the Foundation Center's interactive website and can be found on DRAF's countries page.
Read more about our Grant Guidelines.
Our strategies help guide our work and planning. Each document takes in to context the world in which DRF and DRAF operate and sets out a framework for accomplishing goals and objectives.
To learn more about each strategy, click here.