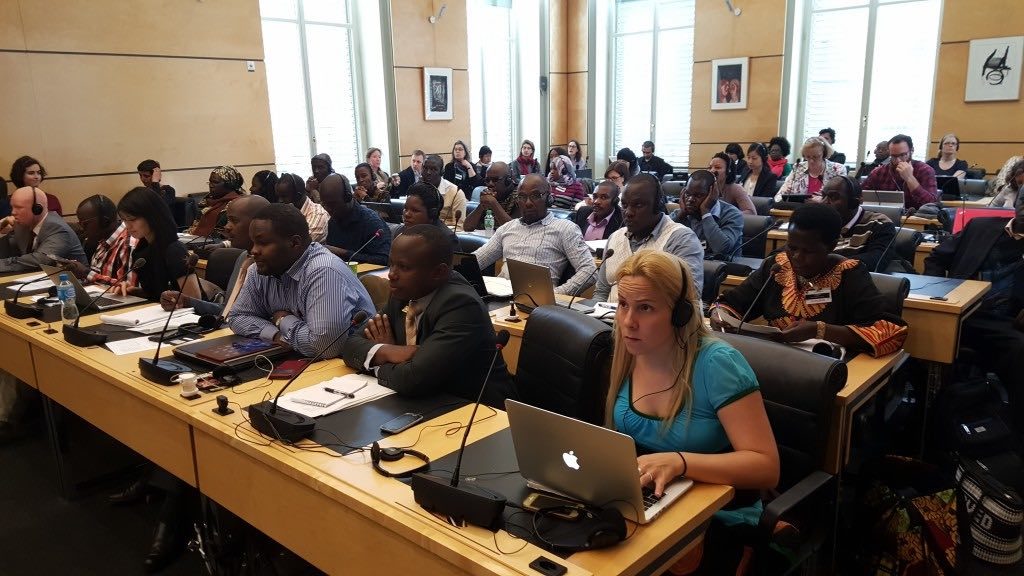 Today and tomorrow, April 7 and 8, 26 delegates from Ugandan disabled persons' organizations (DPOs) are participating in the interactive dialogue between the Committee on the Convention on the Rights of Persons with Disabilities (CRPD Committee) and the Ugandan government regarding conditions for people with disabilities in Uganda. The Disability Rights Fund (DRF), and its sister organization, the Disability Rights Advocacy Fund (DRAF), have provided financial support to the National Union of Disabled Persons of Uganda (NUDIPU) for 12 of these representatives and their support persons, and, in coordination with the International Disability Alliance (IDA), have facilitated technical assistance to the group.
During a private briefing with the CRPD Committee today, the delegation highlighted key rights challenges for persons with disabilities in Uganda, including the need to domesticate the CRPD through amendments to national law, including the 2006 Persons with Disabilities Act, the need for budgetary allocations to disability programs, and, in particular, issues with access to education, health, and work and employment.
In the next days, the delegates will also attend the CRPD Committee's 15th session, in which Uganda's responses to the Committee's List of Issues will be reviewed in preparation for development of Concluding Observations. The delegation will participate in bilateral meetings with other UN representatives in Geneva, and join a two-day training on the Sustainable Development Goals (SDGs) facilitated by IDA and International Disability and Development Consortium (IDDC). The SDG training will guide the disability movement on how to engage in SDG monitoring and reporting processes to ensure that no one is left behind – particularly important as Uganda is one of the first countries to volunteer to report on SDG implementation at the High Level Political Forum in July 2016.
DRF is supported by a variety of donors, including: the Ansara Family Fund of the Boston Foundation, the Joseph P. Kennedy Foundation, The Foundation to Promote Open Society, part of the Open Society Foundations and U.K. aid from the U.K. government. The Australian Government Department of Foreign Affairs and Trade (DFAT) is a DRAF donor.
For more information, please visit our websites at www.disabilityrightsfund.org and www.drafund.org.
Download Word Version of Press Release