We believe that a strong and inclusive movement is the cornerstone for rights to be fulfilled by all persons with disabilities. In July and August 2016, the DRF program team brought together passionate disability rights advocates in Indonesia, Rwanda, and Ghana to learn, reflect, and strategize. These Grantee Convenings gather DRF grantees to discuss opportunities in the era of the new global goals – the Sustainable Development Goals or SDGs.
The 2030 Agenda for Sustainable Development includes persons with disabilities and has opened doors for their participation and recognition as active contributing members of society – who must not face any discrimination or be left behind.

– Position Paper by Persons with Disabilities, High-level Political Forum
Although the convenings took place in three different countries, what was remarkably similar was the overwhelming optimism to create change so that persons with disabilities could be included in all areas of growth and progress. Activists used the convenings as a spring board to cultivate and strengthen relations with one another and with new allies in civil society, such as women's rights and climate justice activists. They learned from expert trainers on the significance of the SDGs and the practical ways to advocate to their national and local governments for budget transparency and allocation.
Indonesia
In Indonesia, DRF's Dwi Ariyani, with Maulani Rotinsulu, Risna Utami, and Yeni Rosa Damayanti, conducted a six-day BRIDGE training on the CRPD and SDGs. Participants practiced what they learned by presenting recommendations for inclusive development planning and budgeting to the National Development Agency. At the Grantee Convening, they then shared their perspectives with the larger disability community, donors, government, and international NGOs.
To open the Grantee Convening, Maulani Rotinsul, Indonesian Association of Women with Disabilities (HWPCI), produced a video of the 7 year journey of DRF in Indonesia and the accomplishments of Indonesian DPOs.
Ghana
Ghana's Grantee Convening marked the ten-year anniversary of the passage of Ghana's Persons with Disabilities Act (Act 715). Unfortunately, it falls short of ensuring the human rights of all persons with disabilities. DPOs mobilized and submitted a petition to government about the lack of progress and made recommendations for change.
At the same time as pushing for their demands on the Act, the grantees worked together to develop action plans on advocacy around the SDGs. DRF's Med Ssengooba provided information on the linkages between the SDGs and CRPD using examples from Uganda.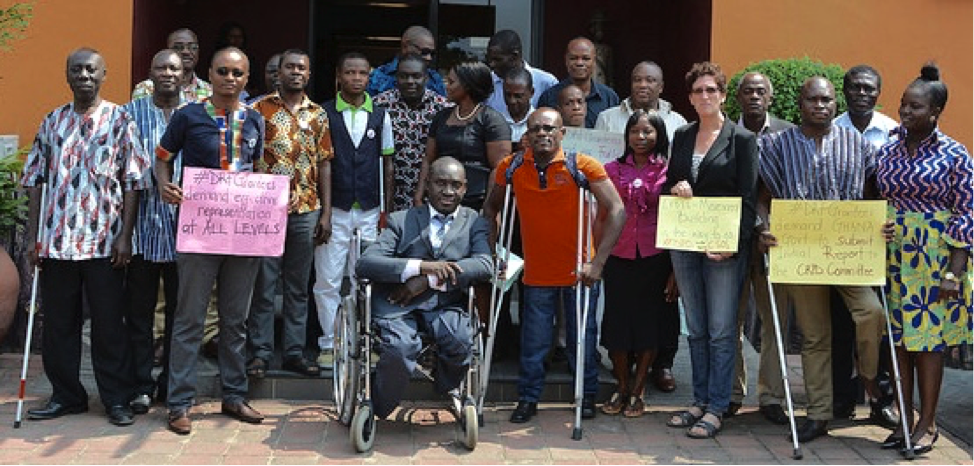 Rwanda
In Rwanda, Dr. Elizabeth Lockwood, from CBM provided a training on behalf of the International Disability Alliance (IDA) and the International Disability and Development Consortium (IDDC) on the SDGs to the group of disability rights activists who were eager to learn. With new awareness and information, participants devised advocacy tactics to demand the inclusion of persons with disabilities into the national implementation of the SDGs.
DPOs have a strong desire to collaborate with human rights movements. At the Rwanda convening, discussions were sparked with the women's and children's movements. The Rwandan DPOs should be proud that despite their challenges of capacity, they are committed to including people who are often the most marginalized – women with disabilities, persons with albinism, little people, refugees with disabilities, and persons with psychosocial disabilities.

– Jorge Manhique, DRF Program Officer for Rwanda and Malawi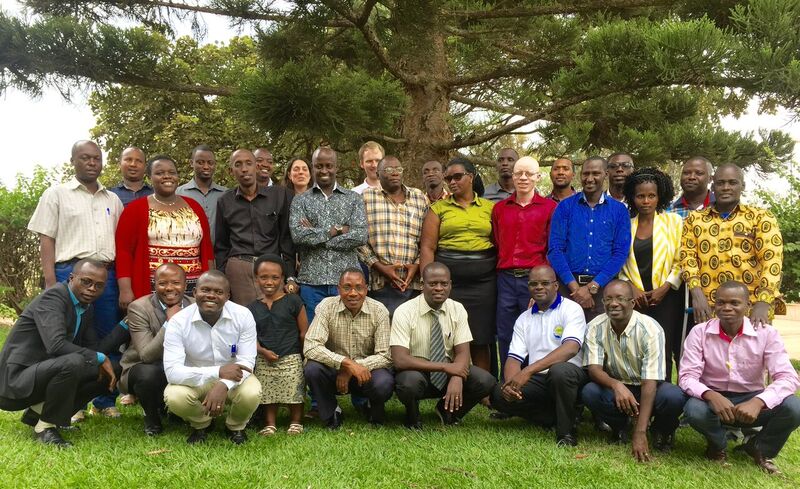 Grantee Convenings
Grantee Convenings are held annually in each of our focus countries, and in the case of the Pacific Islands regionally. As we saw from the video presentation of the Indonesia convening, we've seen that the consistent support and learning builds momentum and cohesion in the disability movement.
Active engagement in the convenings with development partners – governments, donors, and development NGOs – helps to deepen the understanding of disability inclusive development and rights of persons with disabilities. They help raise awareness of national stakeholders, as was the case in the recent Rwanda convening:
Before coming to this meeting, I didn't even know what NUDOR [National Union of Disability Organization of Rwanda] was. From today, I will make sure that DPOs are invited for all the meetings.

-Damas Mutamagoma, Ministry of Justice
Increasingly, DPOs are reaching out to other social justice movements and media through the networking that is often initiated at the convenings. We believe that these linkages can strengthen the voices of persons with disabilities to be heard in all areas of development.