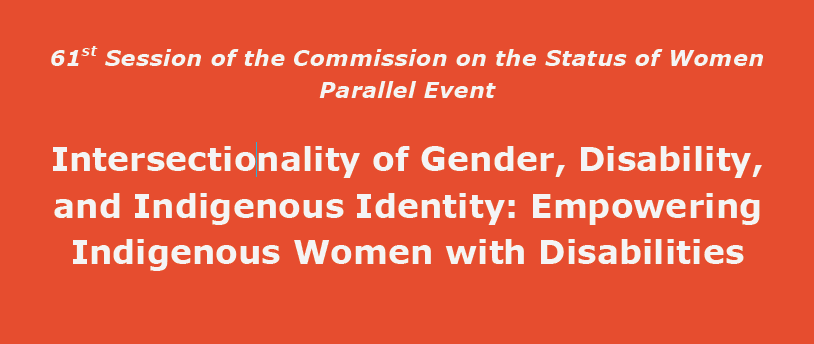 (Download Flyer –Word)
Wednesday March 15, 10:30 AM to 12:00 PM
Location: Armenian Cultural Center Room: Yerevan Hall
Address: 630 2nd Ave, New York, NY 10016
Olga Montufar, Indigenous Persons with Disabilities Global Network
Krishanti Dharmaraj, Executive Director Center for Women's Global Leadership
Ana Peláez Narváez, Executive Vice president,Women CERMI Foundation. Member of the CRPD from 2008 to 2016
Maribel Derjani-Bayeh, Policy Specialist UNWOMEN
Experiences in Cross-Movement Collaboration
Indigenous women with disabilities and their allies present global advocacy experiences to promote the rights of indigenous women and girls with disabilities and explore:
Why is it important to work together to address the rights of marginalized women and girls?
What collaborative good practices can we employ to tackle discrimination? What are the challenges?
What are the strategies for cross movement collaboration with the global women's movement to fight for the inclusion of all women?
How do we combine our efforts to end violence, exploitation, and human rights abuses against all women, including indigenous women with disabilities?
For more information, contact Diana Samarasan at dsamarasan@disabilityrightsfund.org or Georgia Dominik gdominik@ida-secretariat.org.
Disability Rights Advocacy Fund drafund.org