Ambrose Murangira was a shoe cobbler in his village in rural Uganda twenty years ago. Back in those days, he had no thoughts of the United Nations or even any prospects of finishing his education. In a recent interview with me, he recounted his childhood, "When I became Deaf at age 10 from mumps, my mama encouraged me to finish primary school. But the thought of going to high school was hard for me. I told my mama, 'I'm Deaf. How will I understand the teachers?' But since she was not giving up, I decided to go for vocational training in leather works to live an independent life in the future."
Ambrose's destiny changed via a chance meeting with members from the Ugandan National Association of the Deaf (UNAD) who were holding an outreach workshop in a nearby town. Surprised that Deaf people could drive cars and could communicate by using their hands, Ambrose was encouraged to go to high school. He got to know other Deaf people in his community and learned that they even have a language – Sign Language. Eventually, he would finish at the top of his class, while still earning money by fixing shoes in his village.
Fast forward to today, Ambrose, now 34 years old, is the executive director of UNAD and represented persons with disabilities using Sign Language at the United Nations High Level Political Forum (HLPF) on Sustainable Development in New York. In Uganda, Ambrose is a leading disability rights activist advocating for reforms for the national law on persons with disabilities and monitoring the human rights of persons with disabilities to report to the Human Rights Council in Geneva.
See Ambrose speaking on Science and Policy at the UN
As we sat in a restaurant in New York City, Ambrose reflected on his life's journey, "Disabled persons organizations are silently changing the lives of persons with disabilities. If I had never participated in the UNAD workshop twenty years ago, I would not be here with you!"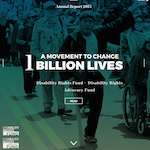 You can read more stories of people like Ambrose who are making a difference around the world – from their own countries to the global level – in our digital annual report. An accessible version of our Annual Report is available.
Topics

Accessibility/ Reasonable Accommodation