On this day, eight years ago, the UN Convention on the Rights of Persons with Disabilities (CRPD) entered into force. An incredible achievement, mainly brought about by the activism of the international disability community, it confirmed that all people with disabilities are also subjects of human rights. It set out aspirations such as legal capacity regardless of disability and universal accessibility that still sometimes seem ideals for a far future society. In 2008, the Disability Rights Fund (DRF) also launched its work to provide the resources for disability rights activists in the developing world to advocate for implementation of these rights. On this anniversary, our Board Co-Chair, Catherine Townsend, looks back and reflects on what we have achieved.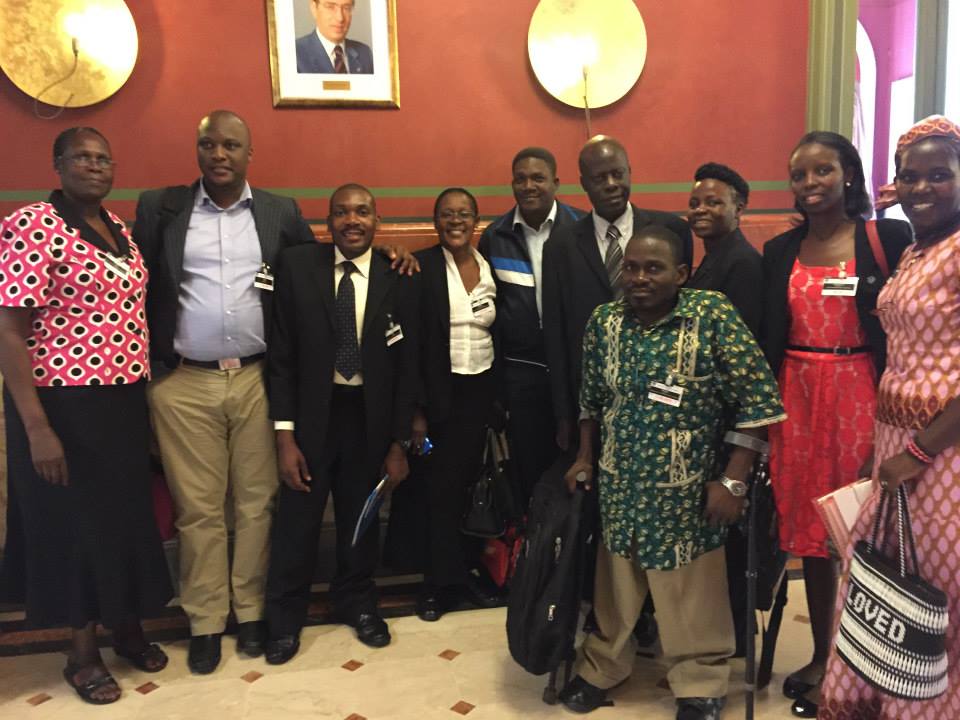 As donors, we love to claim that our grantmaking catalyzes collaboration and builds capacity. Yet, rare is the time when we can point to a singular moment when we know our grantmaking has truly changed a field. Even rarer is the moment when field leaders recognize it at the same time. Yet in early April 2016 in Geneva, Switzerland (of all places!), exactly that happened.
More than 20 disability rights leaders from Uganda came to Geneva to testify in front of a UN Committee that reviews government compliance with the Convention on the Rights of Persons with Disabilities. Several donors, including the Disability Rights Fund, accompanied these leaders as they testified about the conditions and violations that people with disabilities face every day.
The leaders spoke – not as divided groups, as deaf people or people with albinism – but as Ugandans with disabilities – with a unified voice, and testified to their shared experiences living as people with disabilities in Uganda. It was a very different reality than their government shared.
The first and foremost outcome of [sending a] Uganda delegation to Geneva is that it unified the disability movement. It made us one. We focused on issues important to the entire movement and set aside the needs of specific disability groups. In short, we put [the] general disability movement above our individual disability needs.

Ambrose Murangira, Executive Director, Ugandan National Association of the Deaf (UNAD)
The experience was transformative – a collaborative movement growing into a more powerful one – with advocates building confidence on the international stage, and thereby power, leveraging their individual strengths into group achievement and reflecting on ways to integrate lessons learned into impact back home.
While this seemed to be a singular moment, in reality it took a long-term approach to skills building and above all, relationship building. It's difficult to work together unless we have trust.
DRF (and its sister organization, the Disability Rights Advocacy Fund) works with disability rights movements in countries over the long-term to catalyze collaborative tactics, develop stronger relationships among organizations of people with disabilities and between them and other stakeholders (including government officials and other rights movements), and ensure that the most marginalized people with disabilities are included within their own community. These tactics are core to our goal of promoting laws and policies and general awareness that uphold the rights of persons with disabilities. This is what we call "Building movements."
I was honored to see a result of this work in the testimonies in Geneva. Crucial, too, was the recognition of everyone involved that this was the start, rather than the finish line. As my fellow Board Co-Chair noted in Uganda at a DRF Grantee Convening following the Geneva visit, "We must stay united." The disability rights leaders from Uganda who were in Geneva understand how critical this is and are already looking to ensure that the slogan of the new post-2015 development era, "Leave No One Behind," becomes a reality for ALL people with disabilities.
In the words of the American leader Hellen Keller, "Alone we can do so little, together we can do so much." This aptly sums up the way DRF strives to work with our grantees and how they are now working with one another.