Blog by Rucha Chitnis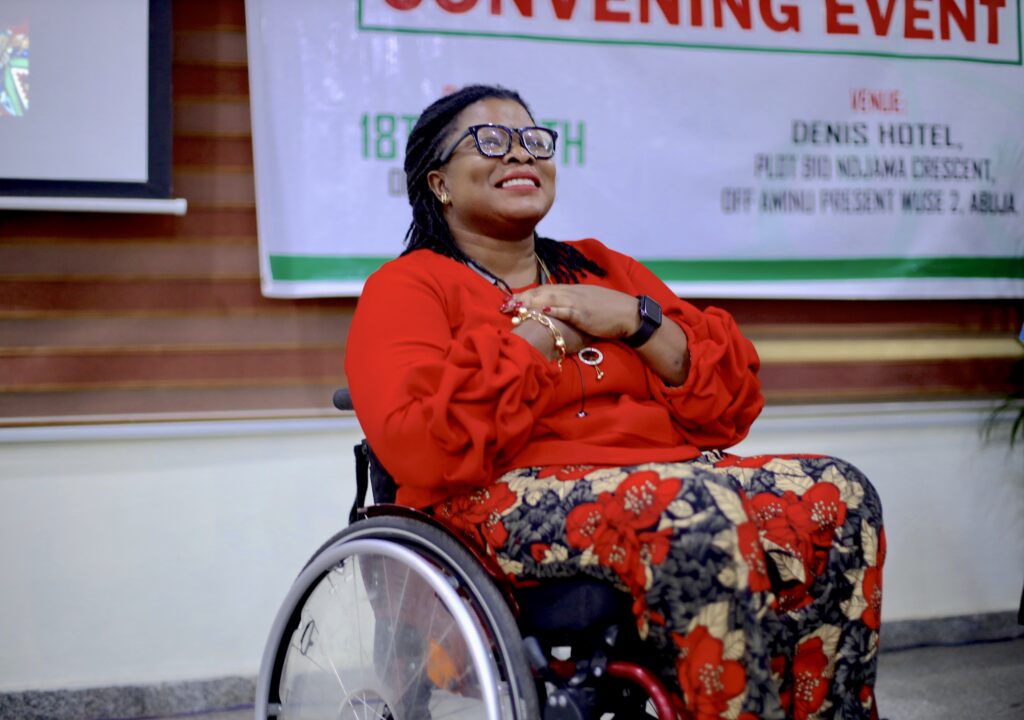 The Disability Rights Fund (DRF) team is thrilled to award the 2022 Diana Samarasan Disability Rights Advocacy Award to three powerhouse intersectional feminists—all Nigerian women with disabilities. Congratulations Grace Jerry, Founder of Inclusive Friends Association, Benedicta Oyedayo Oyewole, Program Officer for Diversity and Inclusion at WHER Initiative, and Hauwa Ojeifo, Founder of She Writes Woman.
This award is given annually to recognize outstanding leadership and intersectional advocacy that is advancing disability rights, particularly for women and others from marginalized identities. This award also honors the living legacy of DRF's Founding Executive Director, Diana Samarasan. "I could not be more honored by the gift of this award to these three ground-breaking Nigerian women activists. Their work where disability intersects with gender across issues of violence, mental health, and LGBTQI rights is a model for all pursuing justice-based approaches," shared Diana.
The awards were given in October 2022 at DRF and Joint National Association of Persons with Disabilities's grantee convening in Abuja, Nigeria. "I am not just a woman or a woman with a disability. I am sitting here with all my identities— being a young, queer woman with a disability, breaking down the walls of discrimination and exclusionary practices," said Benedicta. This year, the award focused on Nigeria as we celebrated the launch of DRF's new project 'Holding Rights, Leading for Rights' in West Africa with support from the U.S. Department of State Bureau of Democracy, Human Rights, and Labor (DRL). This initiative was launched to ensure women with disabilities in West Africa are better resourced and technically equipped to demand their rights, seek equal treatment under the law, and reduce stigma and harmful practices.
Learn more about these incredible activists below!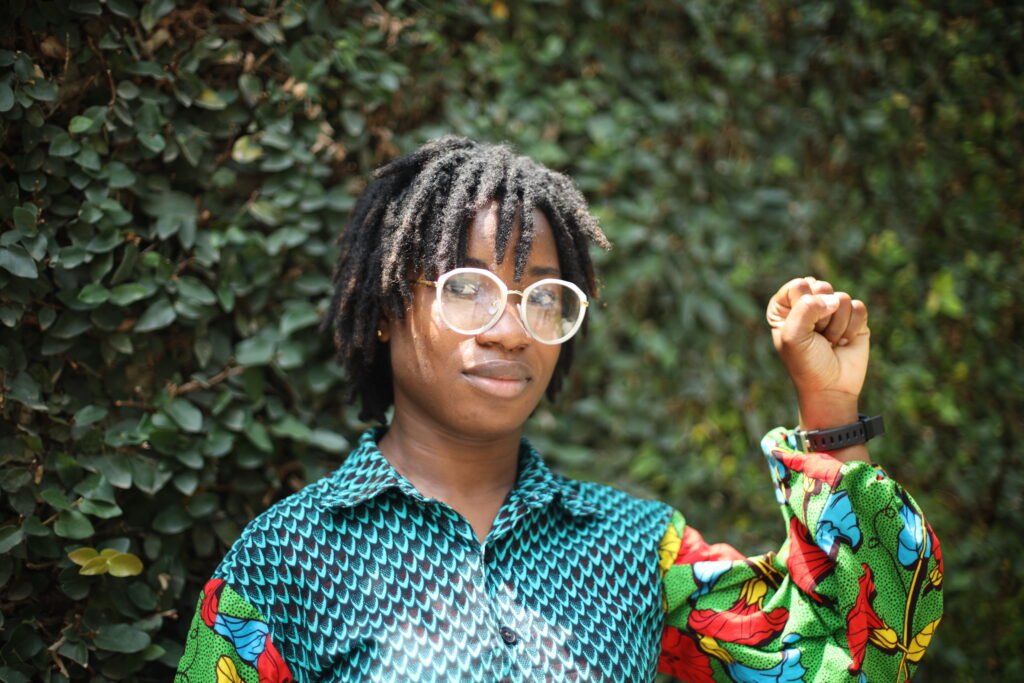 Benedicta Oyedayo Oyewole is an intersectional feminist, who is passionate about disability and women's rights. Working and living at the nexus of multiple identities, she is interested in the interconnectedness of sexuality, disability, climate, and gender justice. She currently works as a program officer of diversity and inclusion at the Women's Health and Equal Rights (WHER) Initiative, a nonprofit focused on promoting the rights and well-being of Lesbian, Bisexual, and Queer (LBQ) women in Nigeria. Her dream is to travel the world, document, and explore how the multiplicities of our identities—sexuality, gender, ability—shape how we engage with and think about desire. A fellow of the Disability Justice Project, Benedicta was also featured in the 2022 Investing in inclusion report of the Global Business Coalition for Education Disability Task Force. Learn more about Benedicta's journey in advocacy in this powerful blog posted by the Disability Justice Project.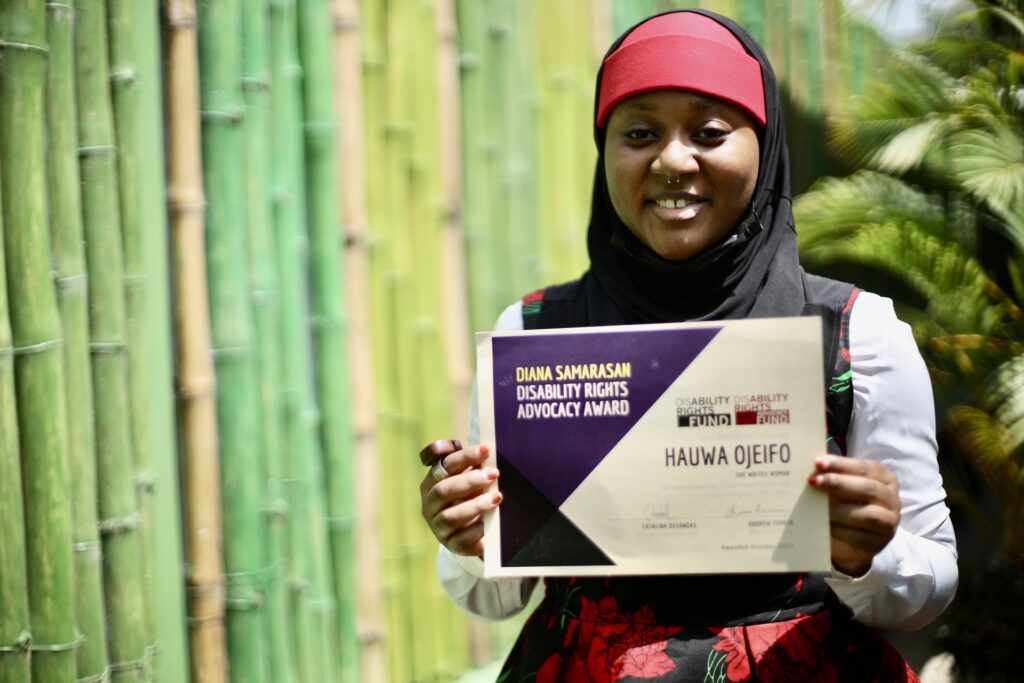 Hauwa Ojeifo was born and raised in Nigeria. She received a Master's degree in Investment Banking and Islamic Finance from Henley Business School, University of Reading in 2019. As the founder of the mental health initiative, She Writes Woman, Hauwa leads her dynamic team to create space, mobilize, and amplify the voices of persons with psychosocial disabilities, empowering them to co-create their solutions, tell their own stories, and advocate for their own rights. "We forget that the majority of what mental health conditions are about is psychosocial in nature. Affordable housing, meaningful employment, good healthcare, good education, poverty is always the key indicator across the board," she said.
As a lead facilitator and CEO at the International Advocacy Academy Africa, Hauwa creates learning resources and facilitates teachings to equip African advocates to drive social change. Hauwa sits on the advisory board at Viacom Generation Change Global Youth, Witness Change, and Made of Millions. Watch this short film featuring Hauwa's deeply personal journey in advocacy as someone with lived experience with psychosocial disability.
Grace Jerry is a disability rights activist, human rights advocate, and a musician who is the recipient of many awards, including a Mandela Washington Fellowship and Miss Wheelchair Nigeria. Grace has engaged in critical advocacy to promote inclusive electoral processes in Nigeria and the organization she founded, Inclusive Friends Association, has become the go-to organization for and by persons with disabilities when it comes to political participation, especially in civic processes. Grace's contributions continue to have ripple effects, especially now as Nigeria approaches general elections in early 2023. "Inclusive Friends Association is an organization for and by persons with disabilities, and our work is to bring issues of disabilities to the forefront of development efforts in Nigeria. I represent a community of 25 million Nigerians with disabilities, which is a huge demographic of people who have suffered discrimination, marginalization, and exclusion. We want to see action! We want to see things change, and we want to have an inclusive Nigeria," she said. Watch this energizing video of Grace, where she shares her vision for inclusive Nigeria.