Reflections from my backyard while Hurricane Matthew is killing my country Haiti both softly and violently… Jo-Ann Garnier from Port-au-Prince reflects on the work of the Disability Rights Fund during the deadly and devastating storm on the southern coast of Haiti.
Haiti ratified the UN Convention on the Rights of Persons with Disabilities (CRPD) and its Optional Protocol in 2009. By ratifying it, the Haitian Government made a formal binding commitment to enforce the laws that it guarantees. This international instrument does not create new rights for persons with disabilities — it reaffirms the rights enshrined in other human rights instruments and mainstreams accessibility and inclusion.
The CRPD offers a paradigm shift by spelling out clearly that persons with disabilities are rights holders and not passive recipients, thus have equal access to all human rights. When governments are not complying with their commitment it also provides the framework for persons with disabilities to hold them accountable.
This is where organizations like the Disability Rights Funds (DRF) are important. DRF provides direct funding to Disabled Persons Organizations (DPOs) to give them the financial and technical means to advocate for the implementation of each and every single article of the UNCRPD.
DRF doesn't do the job for persons with disabilities; DRF doesn't support others to do it for them. Instead, DRF supports persons with disabilities to be actors in their own development.
Instead, DRF supports persons with disabilities to be actors in their own development.
Talking about emergencies and situations of risks, CRPD article 11 stipulates that, "States Parties shall take, in accordance with their obligations under international law, including international humanitarian law and international human rights law, all necessary measures to ensure the protection and safety of persons with disabilities in situations of risk, including situations of armed conflict, humanitarian emergencies and the occurrence of natural disasters."
Haiti is prone to natural disasters and has been classified as one of the three countries that are the most affected by climate change which increases its vulnerability.
In the field, I have witnessed that persons with disabilities are among the groups that are more at risk during and after a disaster and they are continuously excluded from national and local disaster management processes
For this reason, following the earthquake, DRF supported the Association des Sourds de Levêque Haiti (ASLH)'s to advocate for inclusive disaster risk management (DRM) planning. This initiative was an opportunity for organizations of Deaf persons to reach out to government bodies in charge of disaster risk response and planning as well as other humanitarian institutions including the Haitian Red Cross to ensure persons with disabilities are on the agenda and are included at all levels of disaster risk response from the planning to response efforts.
Going back to hurricane Matthew, from the moment Civil Protection authorities activated the National Disaster Plan, before I even reached out to the DRF grantees to make sure they were well informed and had access to information, some of them like RANIPH Sud (Réseau Associatif National pour l'Intégration des Personnes Handicapées), UFMORH (Union des Femmes à Mobilité Réduite d'Haiti), AFAS (Association Filles et Femmes au Soleil), CONOIPH (Coalition Nationale des Organisation pour l'Intégration des Personnes Handicapées), FNASH (Fédération Nationale des Associations de Sourds d'Haiti) were already sharing information with me using Whatsapp. Whatsapp is an accessible form of communication for Deaf and hard of hearing persons as well as Blind persons.
This made me smile despite the circumstances. Things have changed a little since the 2010 earthquake; now persons with disabilities make sure they share information and keep everyone from the community informed. I was also happily surprised to see that public messages from authorities, included persons with disabilities.
At this point in time, where communication has stopped almost nationwide due to power outages, I do not yet have information about the accessibility of the shelters and evacuation transportation. I don't know whether or not rescue and evacuation teams had Sign Language interpreters available or whether shelters are accessible…. I do know that because of DRF's contribution to support the advocacy efforts by Disabled Persons Organizations, persons with disabilities went from being in the shadows to being visible — a step forward.
Reducing the risks during natural disasters and ensuring that the human rights of persons with disabilities are protected, starts with their participation in emergency planning to make sure their needs are addressed in evacuation systems, shelters and communication.
Disaster risk management policies should be inclusive of all in order for a country to ensure all citizens are accounted for and protected in times of disaster.
The slogan of the international disability movement "Nothing for us without us" definitely applies here, as it ensures we as a society "leave no one behind"!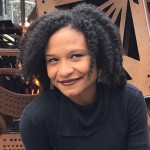 Jo-Ann Garnier Lafontant is the Haiti Grants Consultant for the Disability Rights Fund. She works with the prog ram team and serves as a liaison with Disabled Persons Organizations in Haiti. DRF has been making grants in Haiti since 2013. Jo-Ann brings over a decade of experience supporting Haitian civil society to promote the rights of children, including children with disabilities, and to provide technical support to civil society and the government on rights and inclusion of marginalized groups.
Topics

Disaster Risk Reduction/ Emergency Preparedness