In a follow-up to her 2017 piece, DeafBlindness: The Left Behinds in a Leave No One Behind Era, DRF/DRAF's Inclusion & Analytics Officer reflects on how the COVID-19 pandemic has impacted her and other members of the DeafBlind community in Massachusetts, the broader United States, and across the target countries of the Disability Rights Fund.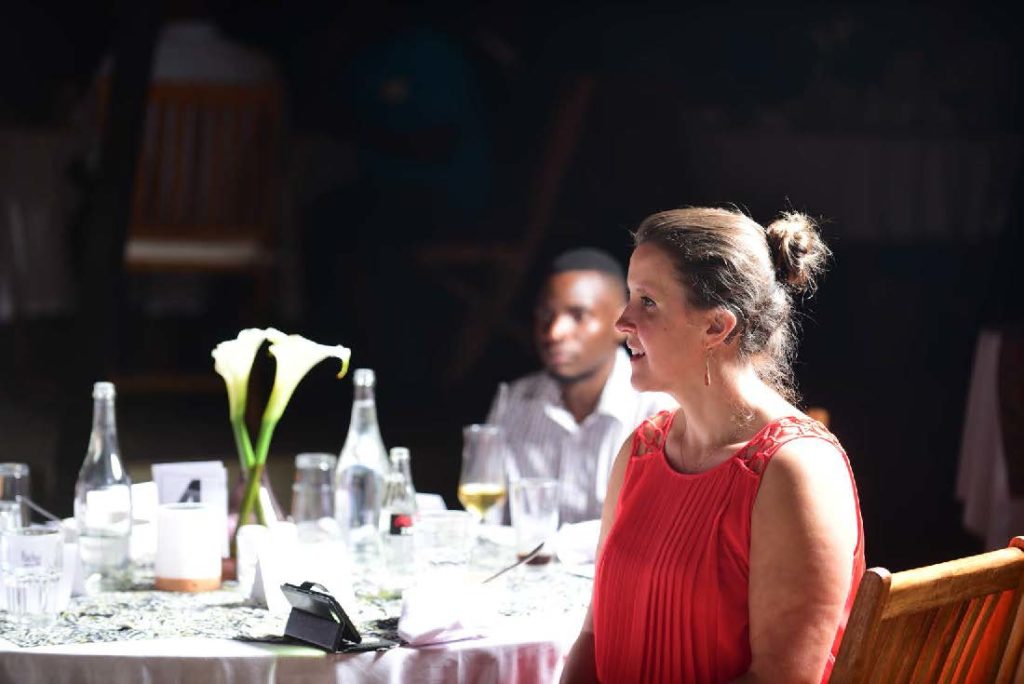 On March 12th, members of the Massachusetts DeafBlind community were set to gather in a spirit of community and advocacy at the Massachusetts State House for annual DeafBlind Awareness Day.  This event is an important opportunity for members of the DeafBlind community to share our challenges with legislators.  Locally, though COVID-19 was not yet declared a pandemic, there was a sense of nervousness in the air among both those who are DeafBlind and those who communicate with us when we were told to physically distance ourselves and avoid touching.   While we know CDC and WHO guidelines are for our safety, a question arose: how then would the DeafBlind communicate?
As events around the world were cancelled, including the 64th Session of the Commission on the Status of Women, I knew the announcement to cancel DeafBlind Awareness Day was imminent.  People were told to stay home, work remotely, and maintain a distance of six feet.  Friends, loved ones, and colleagues checked in with one another through video calls, text messages, emails, and social media.  The question in my mind grew: how could members of the Deafblind community communicate with the outside world?  The world before COVID-19 was already a world of isolation for many people with disabilities, especially those who are DeafBlind.  Most of the world is not aware of DeafBlindness, when a person is both Deaf and Blind.  As a Deafblind woman working in the global disability rights movement, I have worked hard to educate my colleagues at the Disability Rights Fund (DRF) and the Disability Rights Advocacy Fund (DRAF) as well as our grantees at national levels about how to include persons with Deafblindness. 
I have started to see progress in the last few years. My colleagues have been sharing news about emerging organizations of persons with DeafBlindness such as Pelita (Association of the Deafblind) from Indonesia. Advocacy efforts by DRF/DRAF grantees such as the Rwanda Organization of Persons with DeafBlindness, Visual Hearing Impairment Membership Association of Malawi, and the National Association of the DeafBlind in Uganda, have gained traction.
Currently though, we are in danger of going backwards instead of forward. It is important that we find ways to continue progress made by the disability movement, including the World Federation of the DeafBlind, and in society despite the COVID-19 pandemic My colleagues have asked me, "what can we do to support people with DeafBlindness during this time?"
Here are my five recommendations to foster a response to COVID-19 that is inclusive and accessible of people with DeafBlindness:
Reach out. Find ways to contact members of the Deafblind community using all possible communication means (social media, text/SMS, WhatsApp, email) to make sure they are okay. Ask them what is the most accessible way to reach them. (Note, people with DeafBlindness vary in their communication preferences).
Get creative. We all need to find new ways to communicate, even the DeafBlind.
Sign inclusively. Deaf individuals, sign language interpreters, and Deaf organizations should take extra steps to ensure that their videos with sign language are accessible to those who are Deafblind. (Read Inclusion 101 – Inclusive "Distancing" by Silent Rhythms, Inc. on how to create accessible videos in sign language).
Make documents accessible. Provide a document with the option to download as a Word and PDF. Google Docs are not easy for those using assistive technology. Also, create Large-Print versions.
Do not social "media" distance. While we have to practice physical distancing we should not be distancing ourselves in social media. Create accessible social media posts for the DeafBlind (click here for guidelines)
Like so many of you, I have been feeling overwhelmed by the sheer volume of messages about COVID-19 and trying to determine what is informative and accessible. To support my fellow members of the DeafBlind community, I have created a Facebook Group that is specific for people with DeafBlindness. Each post is screened for accessibility before being approved. If you would like to join the group, click below and follow the guidelines on accessible posts.
DeafBlind Community COVID-19 Information Facebook Group
Many folks are staying positive by trying to use this time to learn new things.  Why not learn some sign language phrases, learn about pro-tactile and tactile sign language, learn how to make information accessible, or learn more about the World Federation of the DeafBlind.  My hope is that when we are all able to be together again in the same room, all persons, including the DeafBlind community, will be welcomed with open arms….hands, and fingers. 
Stay healthy, active, and informed. Do not be afraid to reach out.
Additional Resources
Reach out to the World Federation of the DeafBlind for more information on supporting persons with DeafBlindness.
Kerry Thompson is the Inclusion & Analytics Officer for the Disability Rights Fund. She is the Founder and Executive Director for Silent Rhythms, Inc. a non-profit to promote the inclusion of people with disabilities in the arts. She serves as Vice-Chair for the Massachusetts State-wide Advisory Council and a 2020 Visiting Artist at Harvard Dance Center. /she is a Marshall Memorial Fellowship and was a White House Fellowship National Finalist 2016-2017. She completed a Master's degree in Human Development and Psychology from Harvard University with a focus on international law and human rights. She is the author of Inclusion 101: A Guide for the Well-Meaning, Well-Doing, and the Well, Clueless and Deafblindness, the Left Behinds in a Leave No One Behind Era.